I, Norton
an opera in real time
Blips and Ifs
Gino Robair
: voltage made audible
Birgit Ulher
: trumpet, mutes, radio speaker
Singular Pleasures
Gino Robair
: percussion music for listening and sampling...
Other Destinations
Gino Robair
: percussion, voice, Theremin, electronics and tape
Scot Gresham-Lancaster & Michael Z. Land
: live processing
k.o.kanne
: texts
Unity in Multiplicity
Oluyemi Thomas
: flute, bass clarinet, C-melody sax, soprano sax, percussion, gong
Gino Robair
: percussion, whirled instruments, motorized implements, toy horns, calabash
New Oakland Burr
John Butcher
: soprano and tenor saxophones, amplified/feedback or acoustic.
Gino Robair
: ebow snare, cymbals, faux dax, motor, toy reed, Styrofoam.
Apophenia
John Butcher
: Saxophones (with motors on 1 and 4)
Gino Robair
: Energized Surfaces
Meniscus
Buddy Systems
Gino Robair in duos/trios with John Butcher, Tim Perkis, Otomo Yoshihide, Carla Kihlstedt, Matthew Sperry, LaDonna Smith, Dan Plonsey, Splatter Trio, and Oluyemi Thomas.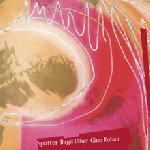 Creative Sources
Sputter
Birgit Ulher
: trumpet
Gino Robair
: energized surfaces, voltage made audible